So here,It is i released my v3.0 of my keylogger but I didn't release the previous version because i started this blog only after that.Any way i have fixed all the bugs of v1.0 and v2.0...So you can be quite sure of advanced keylogging after you
download
this !
So let me start off with the Screenshots....Seeing this you might be amazed ...I'm warning you.....Just kidding
Like all of
"My Other Programs"
it is
coded
in
VB.NET
so you will require
.NET Framework 2.0
or later.
What Does it do ?
Its a keylogger what can you expect it to do ? It key logs information and I have added a littile stealer as well you can check out all the Function in its features !
Features:
1.Upload Logs to Gmail,Hotmail,AOL,Other...
2.FTP Upload .
3.Disables TaskManager
4.Disables CMD (Command Prompt)
5.Disables Registry
6.Add to StartUp + Copies itself as "Windows Update"
7.PC Info Stealer(Steals IP,Computer Name....)
8.Melt (Deletes Itself and Copies to the Windows System Folder !)
9.Disable Firewall
10.Fake Message + Test Message
11.Antis (Keyscrambler, Wireshark, Anubis, Malwarebytes, Kaspersky, Ollydbg, Outpost, Norman,Bit Defender, Nod32, Zone Alarm)
12.Icon Changer + Preview + In-Built Icons
13.Custom Log Interval
14.Change File Name (Please do not change the Filename externally !)
15.Add your own Extension other than the standard ".exe"
16.Cure.exe to remove "Virus" from your Computer
17.Website blocker(virustotal.com, scanner.novirusthanks.org, f-secure.com, kaspersky.com,bitdefender.com, eset.com, virusscan.jotti.org, home.mcafee.com, onlinescan.avast.com, viruschief.com,fortiguard.com)
18.Custom Website Blocker
19.FUD Downloader
20.FUD Pumper
21.Windows Product Key Stealer Win XP/Vista/7 and Office 2007
22.Logs all keys !@#$%^&*(){}|:"<>?,./;'[]\ and F1,f2,f3,f4,f5,f6,f7,f8,f9,f10,f11,f12, BackSpace
Note:This works on the Principle of "Hooks" so it works on all Windows OS (Windows XP,Windows Vista,Windows 7)
Screenshots:
1.Keylogger Builder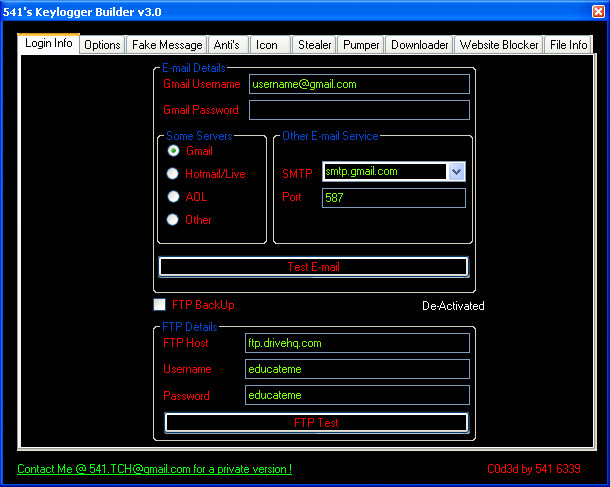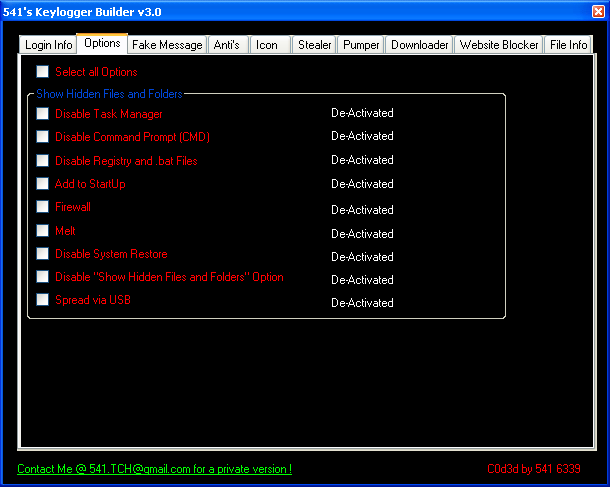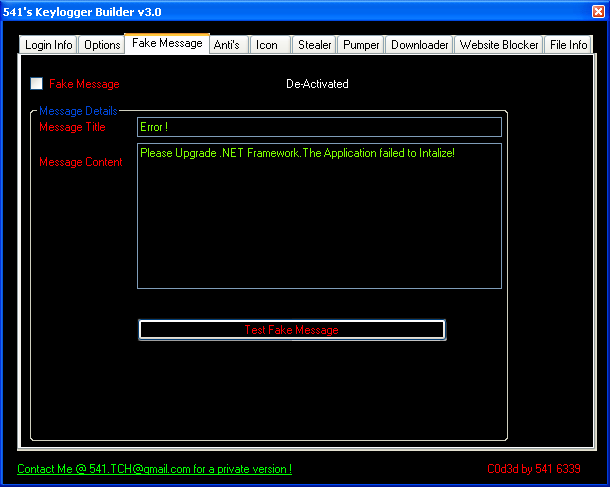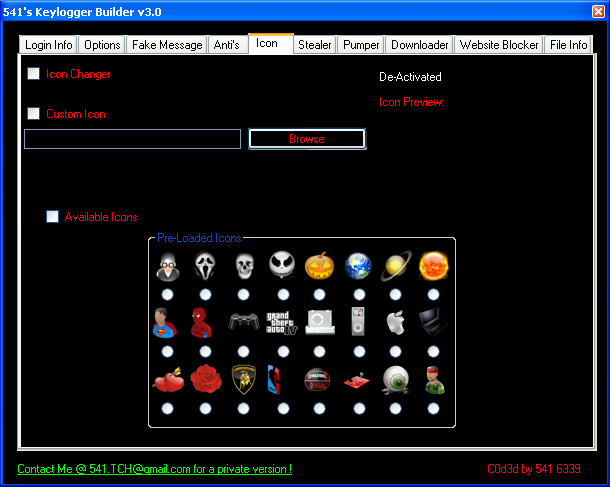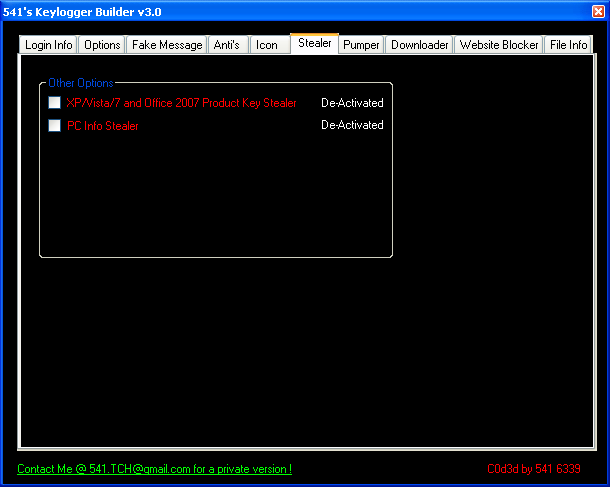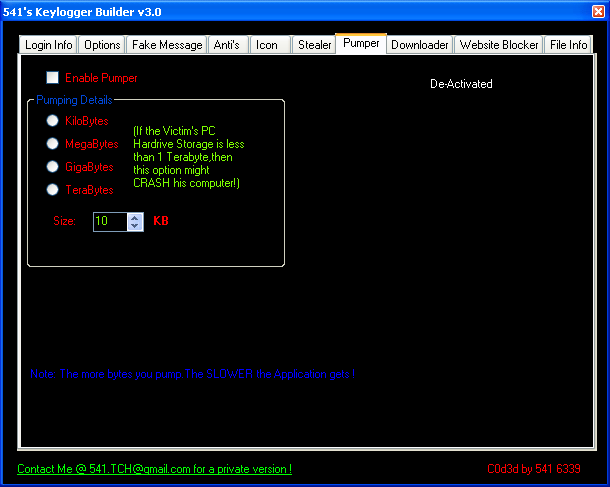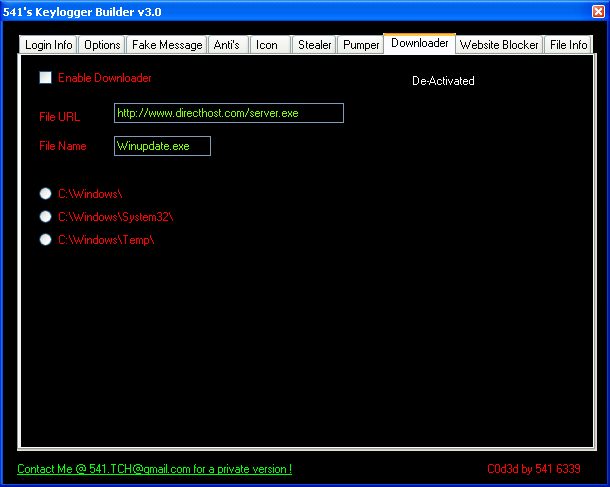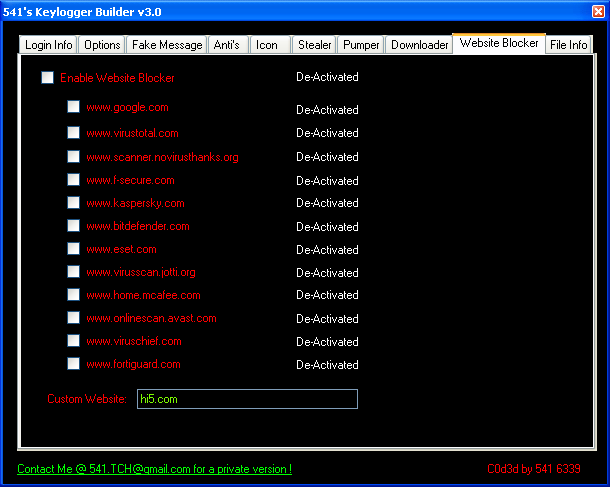 2.Sample Logs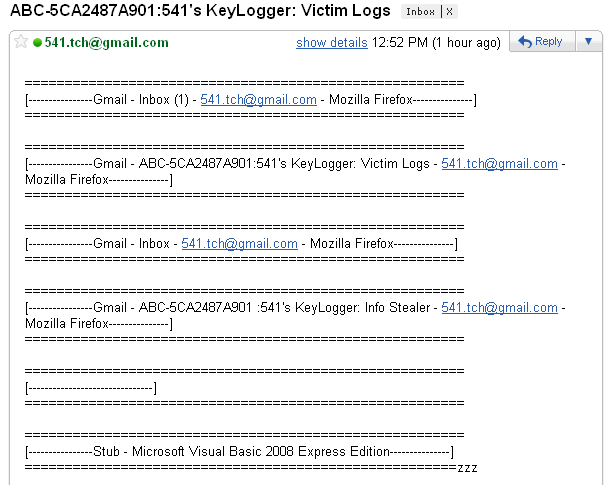 3.Cure.exe

link download :